One of my childhood dreams was to become an author, now with a few books under my belt and a blog with a good following for business, it feels a shame to stop writing. I always enjoyed reading and I am still an avid consumer of books and articles, so I hope you share my passion look forward to reading my books. I have listed the most recent at the top.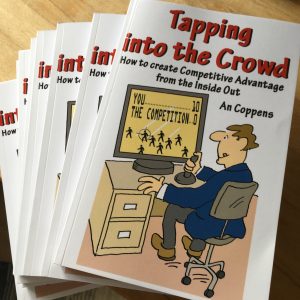 Tapping into the Crowd – how to create competitive advantage from the Inside Out.
Available now from Amazon. In the book An talks about the emergence of crowd sourcing and how this is relevant to employee engagement. She shares how examples and how others have approached this. She also explains how gamification can add to the mix.
Attracting IT Talent to your business
Here is what some of the reviewers have said about the book:
"I have followed An for years and she has always impressed me with the results she achieves for her clients. This book will see even more people make a difference to their life, it's a must read if stress is taking too much out of your life."
Dr Joanna Martin; Author The Presentation Profits Blueprint; Founder Shift Speaker Training and Shift Lifestyle, www.joannamartin.tv
"Having known An for many years and observed how her work has impacted the lives of others through her workshops and TV appearances, it is great to see that she has now authored "Leading The Boss in The Mirror" to make available her guidance to many more people. In today's economy where we have to do more with fewer resources, I am sure that has led to additional stress in the lives of many people, so this book is a welcome and timely resource."
Krishna De, Digital Communications Strategist, www.KrishnaDe.com
"With the rapidly evolving world around us, it is vital for individuals to be more aware of what they really want from life. This book shows many practical strategies to help you take more control and lead a more balanced and happier life that is available to you"
Tadhg McCarthy; Founder/Managing Director, McCarthy Investment Services Ltd
"An's book is an oasis of calm and is full of the sanity of sense in this frantic and crazy world that we now inhabit. It made me reflect and change my fast paced existence, as I am sure all those who read it will discover."
Zach Falconer-Barfield; Entrepreneur & Co-Founder of The Perfect Gentleman www.theperfectgentleman.tv
"I thought it was interesting, revealing, helpful, insightful, and something that others would be not only interested in, but could benefit greatly from. I thought the stress charts were very good and something that others would find very beneficial. My stress levels were below 100 so that made me feel good :)"
Richard Marston, CEO of Rich Media, Chicago
Books I have contributed to with either content or interviews: